Since September 2020, OHDI has been implementing Project PAWN (Promoting Animal Welfare in Nigeria) with support from Animal-Kind International. The project is addressing the issues of poor animal welfare in Nigeria, changing behaviors, attitudes, mindsets, and actions that perpetuate animal abuse; and facilitating access to animal health and welfare information and services. One of the key components of the project include our community-based work in Pagun Community – a marginalized agrarian community located in outskirts of Ibadan, Oyo State, where a community of small-scale livestock farmers and pet-owners reside with little to no access to quality veterinary services. Since November 2020, we have been engaging members of the Pagun Community by piloting our Humane Education and Animal Welfare training and providing them with subsidized animal health services, including free rabies and PPR vaccination and deworming.
The community members also utilize our dedicated call-line which they often call for inquiries and receive professional advice on their animal health where applicable. All these have helped us to achieve our goals of promoting quality animal health information and services, especially in marginalized communities who often need them the most.  Therefore, we are happy to share stories of significant change and impact  as told by members of the community themselves who have benefitted from Project PAWN and are now more vested in improving their animals' health and welfare.
Dog Chan – From Abandonment to Better Health and Welfare
Before the intervention of One Health and Development Initiative (OHDI), Chan, the dog, had always been on free range, with consistent tick infestation, feeding on scraps and no vaccination history. Through the activities of Project PAWN, Chan was vaccinated against rabies and dewormed. The owner received the training on Humane Education and Animal Welfare this has motivated him to be more involved in Chan's care by providing quality and regular meals. He has even given Chan his first-ever dog bath and moved Chan from being free-range roving around the community eating scraps to bringing him into the fenced house compound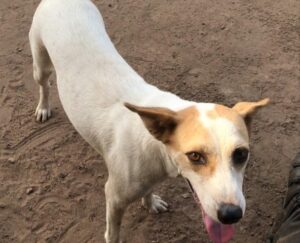 Increased Bird Production and Better Chicken Welfare
With the animal health services provided by OHDI, Mr. Timothy's birds' production rate has increased. They are adding weight faster than the previous chickens he had and their egg production is now consistent. He said he has also learned from the training to put the chickens on semi-free range in the compound during the day instead of leaving them in the cage all day and night, which is bad for their welfare. He appreciates the free consultations offered, and the deworming services. Although he complained about the cost of feed which is expensive at the moment but he does try his best to ensure the birds are well fed.
Pregnant Goat received Quality Healthcare
There has been improved health condition, growth and reproduction rates with Mr. Akindiji's household livestock farm which comprises of goats and poultry. This was after OHDI started to offer subsidized animal health services, with free deworming and vaccination against Pestes des Petits Ruminants (PPR). Particularly, one of his goats is pregnant and the Vet Doctor has contributed to the goat being in good health during the course of her pregnancy till date. Mr Akindiji says that previously, he has had issues with his goats carrying to term due to PPR and other diseases but this has been different as there has been no ill-health so far for his goat and he looks forward to the goat's safe delivery.
Improved Cleanliness and Welfare on Pig Farm 
Mrs Palmer, a pig farmer in Pagun community attributed the effort of OHDI to the increase in health, production and decrease in mortality rate on her pig farm. She says she has learned to especially pay attention to cleanliness as she now cleans her pen daily instead of the previous 4 times a week. She was grateful for the training that taught her simple animal management practices for improving her pigs welfare, and the consultations and deworming medications she received from OHDI. She hopes OHDI continues the work in the community because since the intervention of the organization, animal health in the community has improved.
Summarily, they requested that weekly visitations and consultations by the OHDI Veterinary Officer continue as that is the only reliable veterinary/animal health service they currently receive. They however, appreciate that they are still able to call the OHDI call-line when they need advice on how to manage their animals, even if the OHDI Veterinary Officer is not around in the community