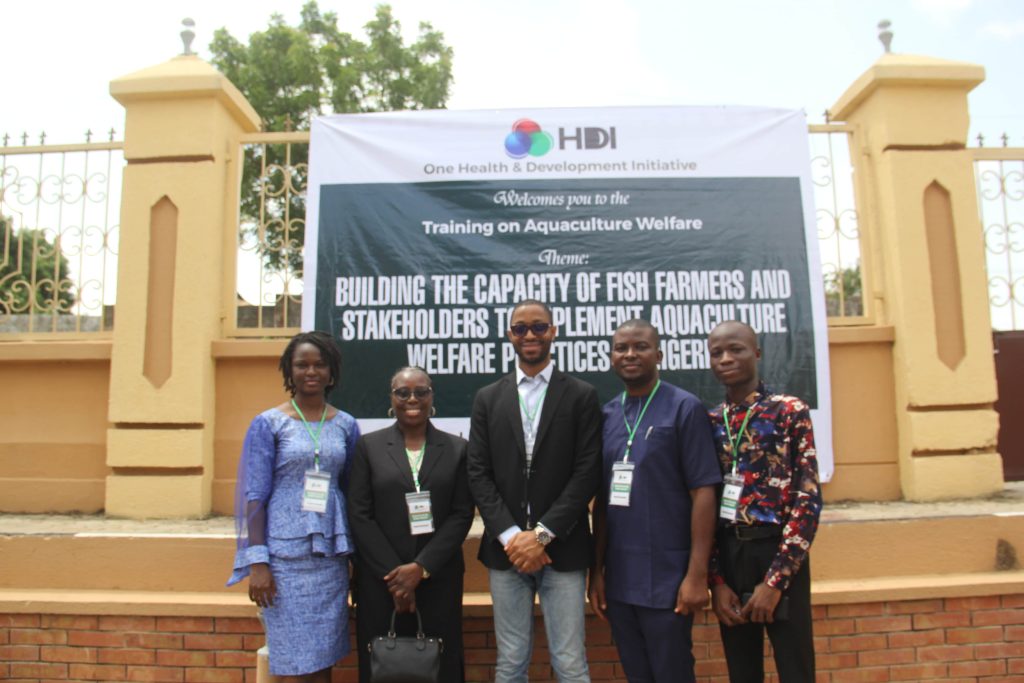 From the 11th of April, 2023 to the 12th of April, 2023, One Health and Development Initiative [OHDI] engaged 40 fish farmers, and 7 directors in a Training on Aquaculture Fish Welfare. This training workshop took place at Mokland Hotel Abeokuta in Ogun State of Nigeria.
The main theme of the training was "Building the capacity of fish farmers and stakeholders to implement aquaculture welfare practices in Nigeria". This theme had 5 facilitators moderate on it including: OHDI founder –Dr. Kikiope Oluwarore, OHDI Executive Director –Mr. Ilunamien Eric Aisedon, OHDI project Consultant –Madam Foluke Areola, OHDI Animal Welfare Program Lead –Mr. Samuel Ogah, and OHDI Animal Welfare Program Assistant -Mr. Isaac Fasipe. Here are the details.
The workshop began on 11th April, 2023 at 8:30am with the registration and attendance form filled by all participants (Facilitators and state representatives inclusive). The workshop training materials were distributed to all attendees. Participants from each state were introduced. In attendance were also the Directors of fisheries services, fish farmers, government officials, and OHDI personnel. A pre-test survey intended to gauge existing knowledge of the participants was administered to all participants using Google forms.
Madam Foluke Areola led the first panel session on the "Overview of Aquaculture in Nigeria". The session provided an overview of the topic, the history and current state of aquaculture in Nigeria. The speaker also decried a dearth of sustainable fish management practices employed by farmers in order to maximize profit. Participants gained valuable insights from the discussion.
Dr. Kikiope Oluwarore provided an "Overview of animal welfare", which included the five freedoms: Freedom to express natural behavior, freedom from distress, pain and anger, freedom from discomfort, and freedom from thirst and hunger. Participants were asked to identify sentient animals from a preselected list of animals. Following the discussion, there was a tea break for all participants to refresh and relax.
Following this, Dr Kikiope Oluwarore led another session on "Aquaculture and animal welfare practices". The session included a Question and Answer (Q&A) segment, which allowed participants to ask questions and receive answers. Participants were asked to identify known animal welfare violations. Afterwards, all the participants were shared into groups to discuss the aquaculture and animal welfare practices further. Day 1 group discussions were also held with a central area of the discussion was "Aquaculture and animal welfare practices".
On the second day of 12th April 2023, participants first completed the registration process and reflected on the lessons learned from day one. The facilitating team successfully managed this process.
Day two training sessions commenced with a plenary discussion on "Water Quality and Welfare of Fish" facilitated by Mr Samuel Ogah. He stressed the crucial role water quality played in fish welfare and practical steps to manage it. Attendees were given the opportunity to ask questions and they received answers to their questions.
Following this, Mr Samuel Ogah led another session on the "Feed, Feeding and Welfare of fish". He clarified the role of local feedstuff inclusion in fish feeds and how it affects fish welfare. All participants were engaged in an interactive Q&A session.
Madam Foluke Areola led a plenary session on "Handling, Transportation, and Welfare of Fish". She brought clarity to some common handling and transport issues that violated fish welfare and suggested local alternatives. Madam Foluke Areola led the final session on the "Slaughter and Welfare of Fish". She cautioned against killing fish using blunt force or salting. She advocated for more humane means of slaughter like stunning or using very sharp knives to ensure a single clean cut. Overall, it was a valuable learning experience for all attendees.
Participants were given the opportunity to ask questions related to their areas of concern and detailed answers were provided to address all questions asked, ensuring that all attendees left the session with a better understanding of the topics.
In the second day's group discussion, focus was placed on how to implement practical welfare practices, identify violations, and sustain good welfare practices in their localities with minimum loss of profits. The major areas of welfare violations were discussed, these include setting up a fish farm (selection of a growing system and stocking density), feed and feeding practices, humane slaughter, fish handling and transport, and water quality. These discussions exposed current knowledge and how it either violates or enhances welfare. Participants shared experiences on their management practices and received feedback on how to adjust to suit welfare.
Dr. Kikiope Oluwarore facilitated a discussion on personal action plans and the next steps to be taken. The presentation and subsequent conversation focused on organizational (OHDI) expectations and follow up. Plans for step down training was shared and it was agreed that the modalities would be worked out by the respective state Directors of Fisheries. A WhatsApp group was created and the participants added to facilitate communication after the workshop.
All participants were required to complete the post-test survey following the event. The program concluded with closing remarks and a vote of thanks from the special guests and group.
Following the Training on Aquaculture Welfare, OHDI committed to: following up on what the participants had learnt and gained during the training by using post-test questionnaire, giving the learners time to reflect on their learning prior to their completion of the post-training personal action plan, and getting useful feedback in an organized manner to help with future training planning using post-test questionnaire. It also committed to following up on step down training, carryout prospective monitoring visits to farms and further consultations on welfare standards, and creating and maintaining community for continuous interactions through the created whatsapp group.
By,
One Health and Development Initiative