Rabies infection is a zoonotic neglected tropical disease (NTD) caused by the Rabies virus which can infect all warm-blooded animals including man. It majorly affects the brain and spinal cord, causing injury and abnormalities in the nervous system. Once the clinical signs of rabies appear in humans, the condition is approximately 100% fatal. According to the World Health Organization (WHO), approximately 60,000 individuals die of rabies every year.
Though rabies is no more present in many developed countries, the disease is still prevalent in Nigeria and many other developing countries in Africa, Asia and South America due to several interrelated health and socioeconomic factors. Now, there have been several global commitments and calls to eliminate the disease by 2030 with a need to implement the One Health approach for effective control and prevention – which include concerted community awareness, mass dog vaccination and implementation of appropriate policy frameworks.
World Rabies Day 2022
September 28th every year is a day to commemorate World Rabies Day and One Health and Development Initiative(OHDI) decided to leverage the expected attention to be garnered on rabies during this period to implement a series of impact-driven activities from Monday, 26th to Friday, 30th September 2022 in commemorating the World Rabies Day, 2022. These activities include:
Implementation of a vaccination drive with the provision of free mass anti-rabies vaccination of dogs in Ibadan City and Eruwa Town, Oyo State. This was implemented in collaboration with the Veterinary Teaching Hospital, at the University of Ibadan, Nigeria.
Media campaigns including radio announcements and jingles, social media campaigns, and distribution of quality information, education, and communication (IEC) materials and Rabies Information Brochure
Sensitization campaign in 2 schools public schools in low-income communities in Ibadan City.
Conducted a Twitter chat on Youth Inclusion in Rabies Eradication by 2030. This was facilitated by the One Health Club members, and
We conducted a webinar with the aim to educate the Nigerian One Health Action in Rabies Eradication. Special guest speakers at the webinar included Dorcas Mernyi, One Health Officer in charge of Rabies Elimination Programs at the Federal Ministry of Health in Nigeria and Dr. Ayodeji Olarinmoye, a Veterinarian and Researcher with Babcock University, Nigeria who has conducted extensive research on rabies
This plethora of coordinated awareness and action against Rabies brought public attention to the need for a One Health approach to address shared health threats of Rabies at the human-animal-environment interface. To make up for the lack of internet connection in many low-income communities where rabies is often prevalent, radio jingles were aired to keep people informed about Rabies control and prevention and make them present their dogs for vaccination.
Detailed Project Activities and Impact
Dog Vaccination Drive
At the 5-day rabies vaccination drive in Ibadan and Eruwa, 59 pet owners presented their pets and a total number of 93 dogs and cats were vaccinated. The majority of the pet owners indicated that they were informed about the program the radio announcements, social media promotion and by family, friends, and on social media.
Secondary School Sensitization on Rabies
Rabies sensitization was conducted in two public schools in Ibadan – Oladipupo Alayande School of Science Ibadan and Oke-Bola Comprehensive High School. These sensitization programs engaged and educated a total of 2,347 secondary school students across both schools on the zoonotic significance of Rabies, with control and prevention strategies highlighted and elucidated.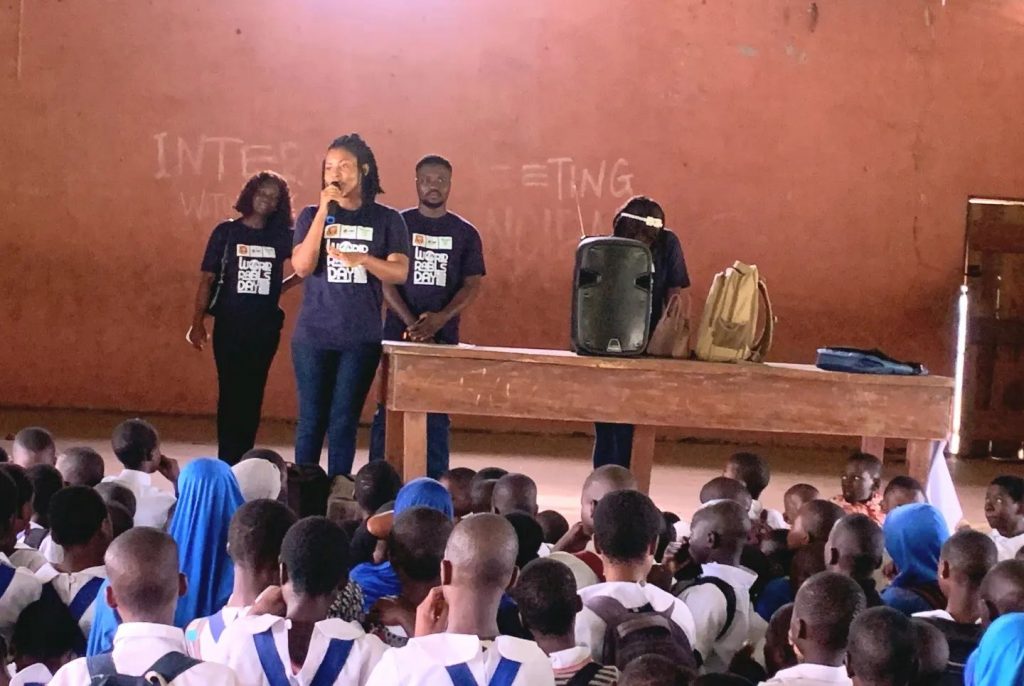 Twitter Chat
The Twitter chat conducted on Youth Inclusion in Rabies Eradication by 2030 engaged over 100 people via the OHDI Twitter channel with knowledge-driven facts on Rabies. This was very much driven by members of the One Health Clubs. Major messages emphasized by the Twitter chat included the need for a multi-sectoral One Health approach and collaboration to addressing rabies and the call to action for us to meet the goal of Rabies eradication by 2030.
Webinar
Furthermore, the webinar on One Health Action in Rabies Eradication engaged over 25 attendees from 6 countries. Our speakers were One Health professionals from relevant sectors including Human Medicine and Veterinary Medicine and together, they highlighted the current achievements and gaps in research, policy, and community action in One Health against rabies eradication.
Outcomes and Lessons learned
Over the course of the project activities, it was evident that there is still a very low level of awareness about the risks associated with Rabies, and low uptake of dog vaccination. About 60% of the majority of pets presented by pet owners had never been previously inoculated with ARV shots, and many of the young students were not aware of the dangers unvaccinated dogs expose them to at the time the outreach was conducted. Some of the questions that were asked during the sensitization events were: "When bitten by a dog what should we do?", "What can we do to get rid of Rabies?", "Is there a drug for treating rabies?", "Does Rabies Kill?".
With Rabies being a zoonotic disease, it is important to implement a holistic approach that tackles all aspects of this disease in order to effectively raise awareness about the disease and provide effective solutions. Major lessons learned are that to reduce the effects of this fatal but preventable disease, people must be well informed on the dangers of the disease, treatment, and prevention through timely dog vaccination. In addition, the cornerstones of rabies prevention and control must be implemented – including increased surveillance in both animals and humans, improved access to Pre-exposure prophylaxis (PrE) and Post-exposure prophylaxis (PEP) for at-risk groups, enforcement of responsible dog ownership, and implementation of relevant policy frameworks. We experienced core attentiveness and inquiries to our campaigns on rabies and we see that people are eager to learn more to protect themselves. Public awareness, education, and action need to continue, and as people continue to hear the significance of One Health and the goal to eradicate Rabies by 2030, we believe that positive behavioral attitudes and adherence to prevention and control of the disease can be achieved.
Expected next steps
OHDI is committed to taking this project further by scaling up these activities to other at-risk communities in and outside Nigeria. If you would like to support this initiative, kindly contact info@onehealthdev.org. You can also make a contribution to be a part of the cause to eliminate Rabies by 2030.
OHDI Project Team
We appreciate our staff, volunteer veterinarians, and veterinary students who were actively involved in the implementation of this project. They include Christianah Oki, Dr. Oluwadare Franklyn, Akintunde Elizabeth, Taiwo Oluwamayowa, Taiwo Deborah, Oluleye Dorcas, Abayomi Jackson, and Chibuzor Happiness.